Relief & Renew Bath Salt
For all Skin Types
Basali&acute Relief & Renew Bath Salt helps counteract the effects of premenstrual syndrome with a powerful combination of Dead Sea Salt and 100% pure organic essential oils of ylang ylang, lavender, clary sage, bergamot and geranium rose. The blend both calms emotions and detoxifies the body.

Botanical
Pelagonium Roseum. Geranium Rose Originating in China, geranium rose oil is beneficial for all skin types and in treating acne and bruises. Benefits: Relieves bloating, balances hormones, detoxifies the lymphatic system, stimulates metabolism and restores energy to the body. Dead Sea Salt is known to benefit numerous skin conditions, including psoriasis, eczema and dermatitis, and also provides immediate relief from muscle aches and bruises.

How to use
Run a warm bath. For best results, add 1/4 cup* bath salt once you are comfortably situated in the water. The essential oils begin to evaporate immediately upon dispersion into the warm bath. To rid the body of toxins, add 1/2 cup* to the water. *Amount may be adjusted based on amount of water.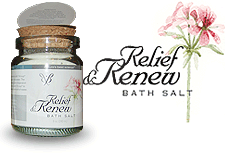 Category: Bath Salt
Size: 240 ml / 8 oz