Relax & Renew Bath Salt
For all Skin Types
Basali´ Relax & Renew Bath Salt combines the powerful healing benefits of Dead Sea Salt with 100% pure organic essential oils of lavender, otto of rose, ylang ylang and orris root. Add to your bath to create healing waters that soothe away the stress of the day.

Botanical
Lavandula Angustifolia. Lavender. The word lavender comes from the Latin lavare, which means to wash. Folk lore advises planting lavender around ones house to safeguard against bad luck and evil spirits. Benefits: Dead Sea Salt is known to benefit numerous skin conditions, including psoriasis, eczema and dermatitis, and also provides immediate relief from muscle aches and bruises.

How to use
Run a warm bath. For best results, add 1/4 cup* bath salt once you are comfortably situated in the water. The essential oils begin to evaporate immediately upon dispersion into the warm bath. To rid the body of toxins, add 1/2 cup* to the water. *Amount may be adjusted based on amount of water.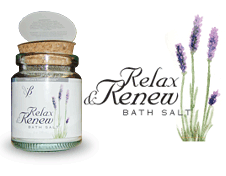 Category: Bath Salt
Size: 240 ml / 8 oz