Foaming Facial Wash
For all Normal and Normal-Combination Skin Types
Not too harsh and not too weak, Basali´ Foaming Facial Wash is blended to suit Normal and Normal-Combination Skin Types. Non-stripping, it leaves the skin with a light, moisture-locking protection barrier.

Botanical
Skin cleansing products that foam are more soothing than gel, protecting against extra drying of the skin. Allantoin, which comes from the perennial herb Comfrey, is added as a soothing anti-irritant that promotes healing.

How to use
Massage onto damp skin. Because it is a foam-based product, no lathering is required. Rinse well. For best results, apply recommended toner.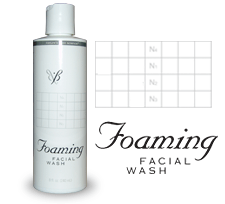 Category: Cleanser
Size: 240 ml / 8 oz

Price: $19.00