Benzoyl Peroxide O2 Facial Wash
For all Oily and Oily-Combination Skin Types
Treat oil and acne-causing bacteria where it hides. Basali´ Benzoyl Peroxide O2 Facial Wash contains benzoyl peroxide, which pulls oxygen into the skin to both flush out pores and kill the bacteria that live in them.

Active Ingredient
Anaerobic bacteria, the precursor to acne, lives without oxygen in skin's pores. Benzoyl peroxide delivers oxygen to the source and helps stimulate pore lining.

How to use
Use 1 to 3 times daily on affected skin. Work into lather, rinse off thoroughly.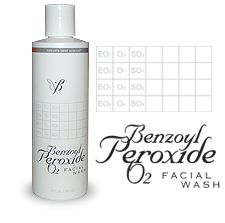 Category: Cleanser
Size: 240 ml / 8 oz