Vitamin A 5% Exfoliator
For all Oily, Oily-Combination, Dry and Dry-Combination Skin Types
A light water-based gel that revitalizes the skin, Basali´ Vitamin A (5%) Exfoliator encourages the skin's natural exfoliation process and helps eliminate the appearance of enlarged pores. Works well on all grades of acne.

Botanical
Vitamin A is vital to all skin tissue. Look to fruits and vegetables for natural sources. Topically, it can reduce the appearance of lines and wrinkles and help control acne.

How to use
Sold by licensed aestheticians only. Apply to clean skin every other night for the first week of use and nightly thereafter depending on your desired results. Consult with your aesthetician.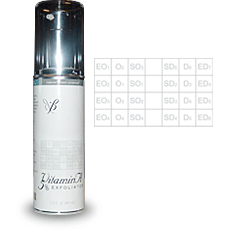 Category: Exfoliator
Size: 44 ml / 1.5 oz