Blueberry Smoothie Scrub
For all Oily, Oily-Combination, and Slightly Dry Skin Types
Basali´ Blueberry Smoothie Scrub works as good as it smells. High in antioxidants, it is effective against the signs of aging. Leaves skin feeling cleansed and soft.

Botanical
Vaccinmium Angustifolium. Blueberry. Blueberries are native to North America and can be categorized into 30 different varieties.

How to use
Apply to skin after cleansing and toning. Gently exfoliate for 30 seconds, leave the scrub on for 2 minutes. (Do not leave scrub on longer than 2 minutes.) Rinse well. Pat dry.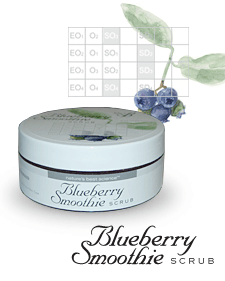 Category: Exfoliator
Size: 120 ml / 4 oz