Rose Hip Extract
For All Skin Types
Basali´ Rose Hip Extract contains a high concentration of natural Vitamin C, which rejuvenates skin and promotes smoothing, firming and toning.

Botanical
Rosa Canina. Rose Hip. High in Retin-A, rose hip extract aids in cell regeneration and increases collagen and elastin levels. Its fruit is used in herbal tea, and it is said to have been a popular component of the Incan diet.

How to use
Apply a small amount after toning and prior to moisturizing the skin. Using clean hands, gently pat extract into the skin until fully absorbed.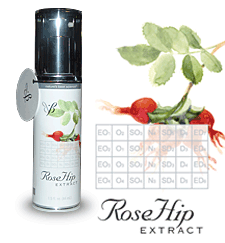 Category: Extract
Size: 44 ml / 1.5 oz