Pink Clay Mask
For Normal and Dry Combination Skin Types
A combination of rose clay, essential oils, ground herbs and floral waters, Basali' Pink Clay Mask draws out impurities and normalizes sebum (oil) production to maintain skin's balance.

Botanical
Rose Clay. Pink Clay is rich in iron, which provides its telltale red hue and, more importantly, aids in tissue repair.

How to use
Use 1 to 2 times per week as directed. Apply to clean skin. Avoid eye area. Leave on for 15 to 20 minutes. Rinse off with warm water.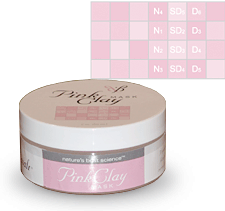 Category: Mask
Size: 60 ml / 2 oz