For all Oily and Oily-Combination Skin Types
Designed for sensitive, irritated or dehydrated skin, Basali´ Conditioning Creme provides a transparent layer of protection against the elements while locking in moisture. Perfect to wear under makeup.

How to use
Apply small amount to clean skin and massage gently with fingertips. Use over serum or correction fluid.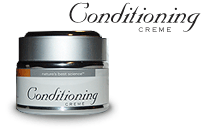 Category: Moisturizer
Size: 50 ml / 1.5 oz