Organic Shea Butter Oil
For all Slightly Oily, Normal, Dry and Dry-Combination Skin Types
Used externally, Basali´ Organic Shea Butter Oil is a blend of shea butter, antioxidant vitamins and high oleic safflower and sesame oils that leaves skin smooth, silky and better protected against the damaging effects of sun exposure and surface dehydration.

Botanical
Butyrospermum Parkii. Shea. Derived from the seed of Shea tree fruit, which is native to West Africa, shea butter helps heal dry skin by penetrating deeply and easily. Odorless, it turns yellow over time.

How to use
Create an aromatic oil and balance body, mind and spirit by adding 5 to 10 drops of your favorite Basali' organic essential oil(s) or synergistic blend for every 1 oz. of Shea Butter Oil.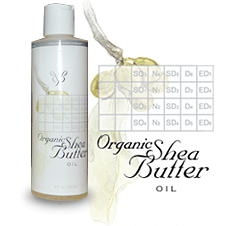 Category: Oil
Size: 240 ml / 8 oz