Rehydrate and Renew Lotion
For all Skin Types
Basali&acute Rehydrate & Renew Lotion contains the highest quality vegetable oils in combination with nourishing components derived from seaweed and aloe vera for a simplistic approach to skin rehydration. The addition of 100% pure therapeutic grade essential oils liberates sensitive skin and tantalizes the senses.

Botanical
Known for its healing abilities and anti-inflammatory properties, milk thistle promotes skin cell regeneration, producing the noticeable glow of radiant skin.

How to use
Apply daily as needed.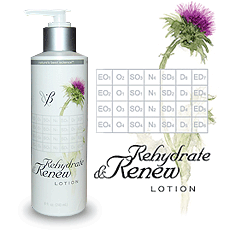 Category: Oil
Size: 240 ml / 8 oz