Final Sweep Toner Normalizing
For all Slightly-Oily, Normal and Slightly-Dry Skin Types
Formulated for normal and combination skin types, Basali´ Final Sweep Toner completes the cleansing process by removing traces of cleanser and readjusting the skin's pH level. It minimizes the appearance of pores while preparing the skin for moisturizing.

Botanical
Aloe Barbadensis. Aloe Vera. While it looks similar to a cactus, aloe vera is part of the lily family. In healing burns and wounds, it is so highly effective because it fights bacterial infection and increases circulation. Its enzymes help reduce inflammation and pain and stimulate epidermal activity.

How to use
After cleansing, saturate a small piece of cotton and wipe gently over skin. Follow with appropriate serum/correction fluid/moisture cream.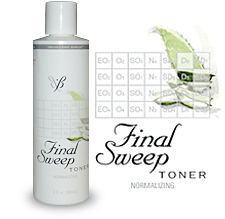 Category: Toner
Size: 240 ml / 8 oz