Final Sweep Toner Sensitizing
For all Skin Types
Formulated for the most sensitive skin, Basali´ Final Sweep Toner completes the cleansing process by removing traces of cleanser, readjusting the skin's pH level and reducing redness.

Active Ingredient
Sensitizing Toner is uniquely formulated for skin that is naturally sensitive or has recently undergone special treatment, and contains ingredients that promote self healing and gentle exfoliation.

How to use
After cleansing, saturate a small piece of cotton and wipe gently over skin. Follow with appropriate serum/correction fluid/moisture cream.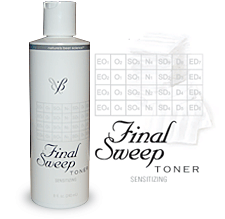 Category: Toner
Size: 240 ml / 8 oz