Anti-Oxidant Toner
For all Dry and Dry-Combination Skin Types
Formulated for sun damaged, mature and dehydrated skin types, Basali´ Anti-Oxidant Toner increases the skin's moisture level by locking in hydration and helps prevent against future skin damage.

Botanical
Pelargonium Odorantissimum. Geranium. The oil from this perennial herb helps regulate oil production while relieving skin congestion. Its leaves often are found in potpourri and its fragrance can help relieve anxiety, depression and stress.

How to use
After cleansing, saturate a small piece of cotton and wipe gently over skin. Follow with appropriate serum/correction fluid/moisture cream.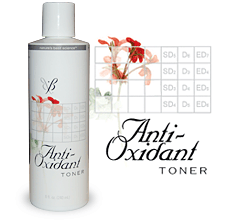 Category: Toner
Size: 240 ml / 8 oz