Clarifying Astringent
For Extra-Oily and Oily Skin Types
Formulated for oily, extra oily and acne-prone skin and relating conditions, Basali´ Clarifying Astringent completes the cleansing process by removing makeup, dirt and oil. Pores are cleansed and tightened, leaving skin revived.

Botanical
Hamamelis Virginiana. Witch Hazel. A common home remedy, the therapeutic qualities of witch hazel have been used to treat burns, inflammation and bug bites. As a skin tonic, it has excellent astringent properties.

How to use
After cleansing, saturate a small piece of cotton and wipe gently over skin. Follow with appropriate serum/correction fluid/moisture cream.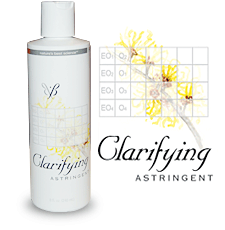 Category: Toner
Size: 240 ml / 8 oz